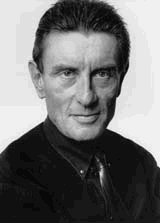 Pioneer Press's
real estate section, "Today's New Homes," carried an unattributed article this week about the forthcoming groundbreaking of Jahn's first residential property in the city,
600 North Fairbanks.
The story's obviously a p.r. piece, so maybe I shouldn't be surprised that I found Helmut Jahn's quotes to be comically inane. (And, maybe, at $300K+ for a 900-sq.ft. one bedroom they have to be.)
Here's what he said:
"The goal is to bring European influence into the design at 600 North Fairbanks Court in the Streeterville neighborhood. Europe has encouraged innovation in technology and materials. The expectations for living accommodations are high in Europe in such areas as fresh air, light, and visual privacy."
"600 North Fairbanks is the place to live in Chicago. What was clear to Gordon Beckman -- the day-to-day supervisor of this project -- and myself was that we were working for a developer who had a conviction to do a quality high-rise building that was different."
"We decided we wanted a transparent facade. Innovative, modern European buildings are designed and built from the inside out. You need to look out and bring air and light into the building."
"(The inside design is) minimalist with exposed concrete pillars and plenty of floor-to-ceiling glass-but not minimalist in quality. Penthouse ceilings at 600 North Fairbanks are 12 feet high-- like the city's grand old apartments, and the buidling features high-end appliances, great fixtures, and wonderful wood floors."
"We tried to leave out the unnecessary in the design of 600 North Fairbanks. The real art in architectural design is taking away, until nothing can be taken away anymore. It is the opposite of ornate."
Image via
leverkusen.com